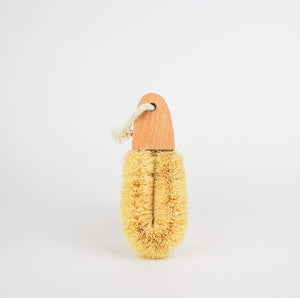 Replace the plastic in your home and kitchen with this versatile coconut scrub brush. Tougher bristles designed for heavy cleaning.  
Description: 
Multi-purpose for kitchen and home
Vegan
Lasts about a year or more with mindful care
Lightweight
6in x 3in x 1.5in

Cotton loop for hanging

Care Instructions: "Hang to dry between uses. Wood in naturally antimicrobial, but if you need to clean your brush, clean with vinegar to kill bacteria."
Ingredients: Coconut, wood, cotton

From Me.Mother Earth based in Las Vegas.
🏠 Free delivery within 4mi with orders over $30
📦 Free US shipping with orders over $75
🌵 Free curbside pickup at our Tucson and Broadway location
♻️ We collect, reuse, and redistribute shipping, packing, and other materials. Learn more at this link.