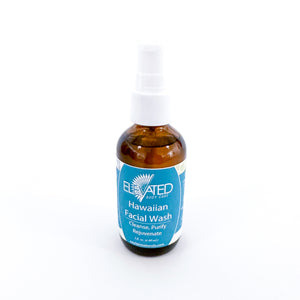 Cleanse & rejuvenate with this Hawaiian Facial Wash. 
2 fl oz Glass Bottle
Vegan
Cruelty-Free
Zero Waste
Made in Arizona
How to Use: 
Apply 1-2 pumps to face & neck, using gentle, circular motions. Rinse w/ warm water & pat dry. Follow with toner and moisturizer if needed. 
Ingredients:
Distilled water, organic coconut & macadamia nut oil (saponified), decyl glucoside, proprietary herbal & essential oil blend.
🏠 Free delivery within 4mi with orders over $30
📦 Free US shipping with orders over $75
🌵 Free curbside pickup at our shop in Tucson
♻️ We collect, reuse, and redistribute shipping, packing, and other materials. Learn more at this link.