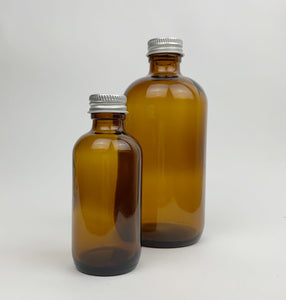 These bottles are perfect for filling with your DIY home recipes or refillable products from Cero and other local stores. Our amber glass bottles include aluminum lids and come in a few size options great for refills. Great for use throughout your zero waste home and doubles as decor. 
About Our Amber Glass Bottles
:
Available in 2oz, 8oz, and 16oz sizes

Aluminum Lid
Lightweight and semitransparent
Washable and reusable
Fragile
🏠 Free delivery within 4mi with orders over $30
📦 Free US shipping with orders over $75
🌵 Free curbside pickup at our Tucson and Broadway location
♻️ We collect, reuse, and redistribute shipping, packing, and other materials. Learn more at this link.