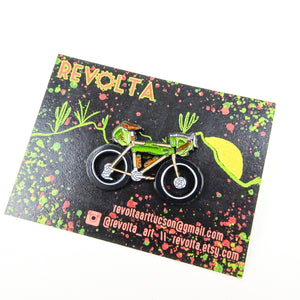 Connecting with the outdoors is so important with a sustainable lifestyle. What better way to explore nature on two wheels. Let's take the Bikepacking Enamel Pin as a reminder to get outside.
About Revolta Art Enamel Pin:
1.25" Enamel Pin
Designed in Tucson, Arizona
Designed by Revolta Art. More by this artist.
🏠 Free delivery within 4mi with orders over $30
📦 Free US shipping with orders over $75
🌵 Free curbside pickup at our Tucson and Broadway location
♻️ We collect, reuse, and redistribute shipping, packing, and other materials. Learn more at this link.